According to CPIA, the penetration rate of dual-glass modules was only 12% in 2018, 30% in 2020, 50% in 2023, and 60% in 2025.
The increase in the penetration rate of double glass promotes the expansion of the photovoltaic glass industry.

Solar power generation in Europe reached record levels this summer, with summer solar power generation up 28% compared to 2021. From the perspective of demand, the photovoltaic glass industry is in the growth stage, and the future demand will continue to grow rapidly.


Photovoltaic glass is the main auxiliary material of photovoltaic modules, which mainly provides high light transmittance and protection performance in the module.
High light transmittance improves photoelectric conversion efficiency: Photovoltaic glass achieves higher light transmittance by reducing iron content. In industrial applications, for every 1% increase in light transmittance, the power generation of the module can be increased by 0.8%, and the cost can be increased by 6-7% % about.

Provide protective properties and prolong the life of modules: After the photovoltaic glass is tempered, it has higher protection and corrosion resistance for solar cells.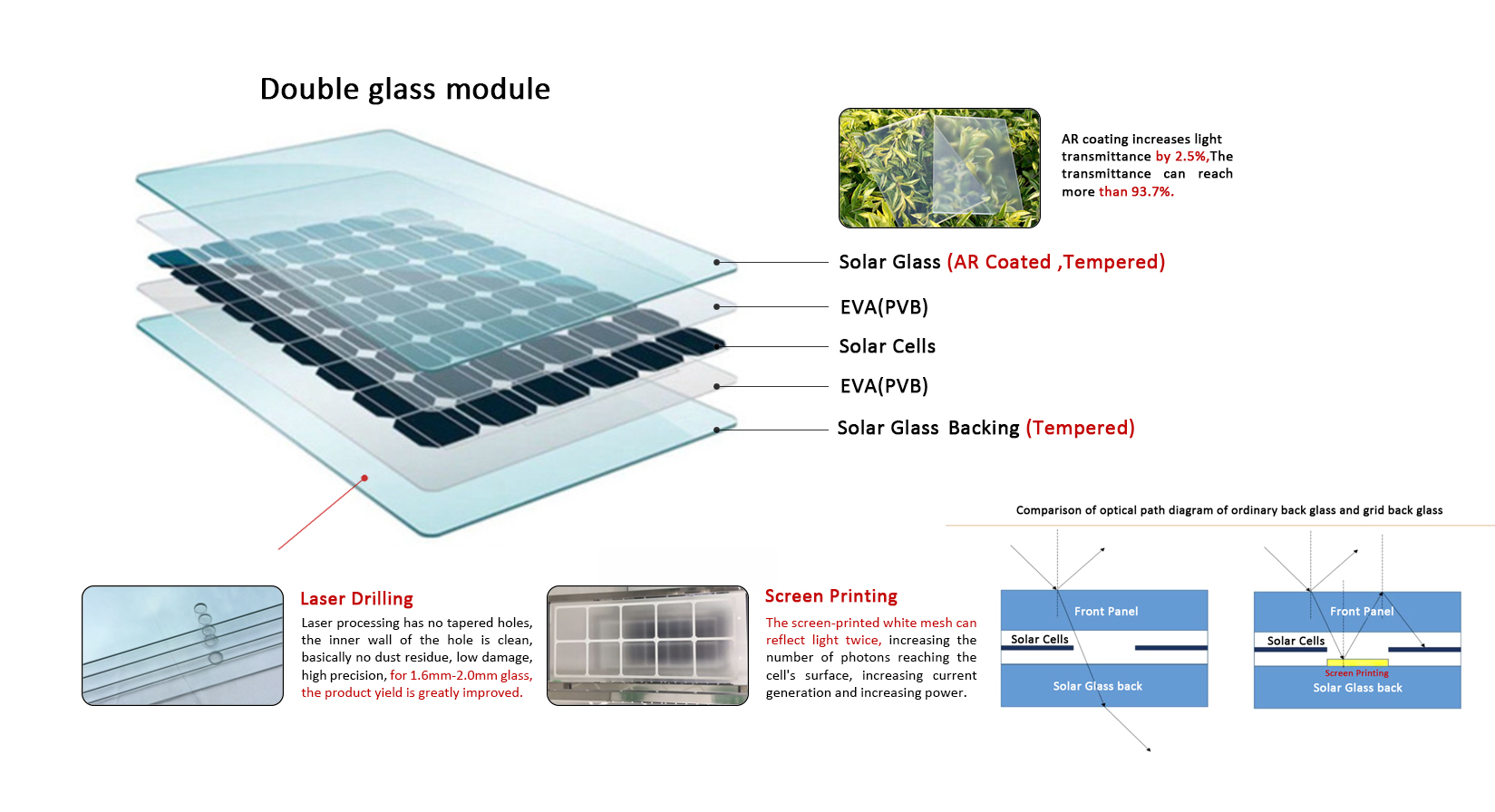 Automatic loader with 10 seconds cycle time.

High speed pencil edging line to process to 2mm thickness.

High performance washing-drying machine to 15m/min speed.

Exclusive 3 heads online laser drilling machine (MAClas) with velocity of 3 holes in 4 seconds. It is clean, saving, superior fast and finishing without cracks.

High performance washing-drying machine to 15m/min speed.

Screen printing line and IR light dryer.

Continuous tempering furnace with high productivity.

Automatic unloader with speed of 8 seconds cycle time.

The line need very delicate design with high speed and reliability. MAC specially recommend the MAClas drilling series. It is the perfect solution and commonly used on solar glass, appliance glass, shower door etc.

For the hole less than 50mm, we have green laser galvo technology while more than 50mm to 150mm, we use high speed laser and the exclusive splitting technology to get the perfect whole finishing. The high speed, superior performance and dramatical production consumables saving make it the future for the glass drilling and cut.